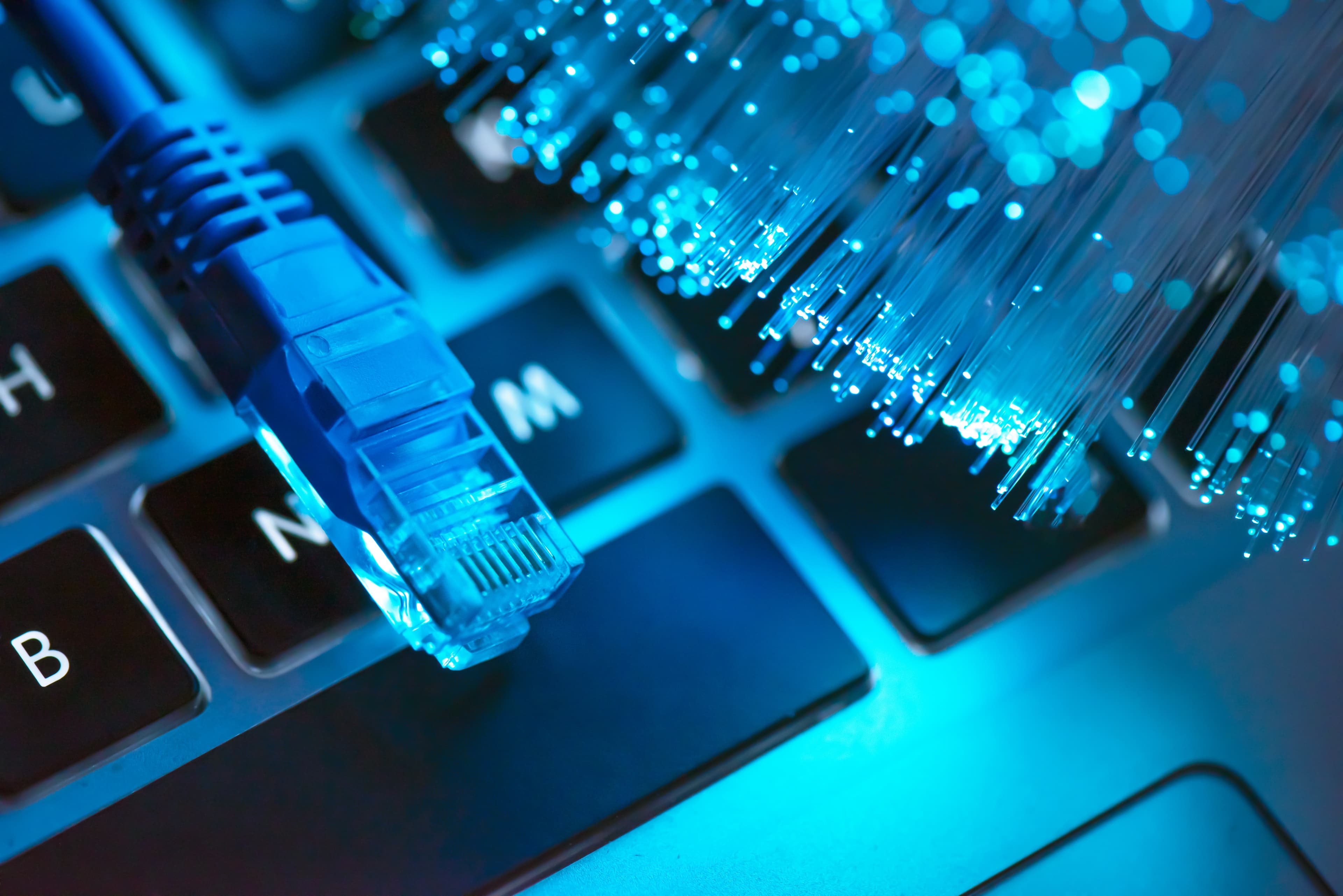 What is Sky Broadband Gigafast?
Sky Gigafast is the fastest and most future-proof home broadband deal available from Sky. It utilises fibre-to-the-premises technology (FTTP) from Openreach to deliver download speeds of up to 900Mbps. These are some of the fastest speeds available in the market, even coming close to the renowned Virgin Media Gig1 Fibre.
Sky Gigafast is for households that demand more from their internet. It is ultra-reliable, ultra-fast and can handle multiple devices connected simultaneously without problems. So if you have a busy, connected household Sky Gigafast broadband might be the one for you.
Sky Gigafast Availability.
Sky Gigafast utilises Openreach's FTTP network to deliver its blazingly fast speeds. Unfortunately, this technology is only available to around a quarter of UK homes.
If you're lucky enough to have Sky Gigafast in your area, we highly recommend taking advantage of it. However, if you cannot get a Gigafast product in your area, you still might be able to get a Sky Superfast deal that can deliver download speeds of up to 59Mbps.
What do you get with Sky Gigafast?
From £50 per month and an 18-month contract, Sky Gigafast is a premium broadband package from a premium broadband provider. At first glance, that price might seem quite steep; however, once you unpack what you get, we think it's excellent value for money.
First, Sky Gigafast offers some of the fastest speeds in the market and an ultra-reliable connection. You can experience up to 900Mbps download and up to 90Mbps upload. These blazingly fast speeds are delivered directly to your home over an ultra-reliable FTTP connection. For peace of mind, Sky Gigafast offers a minimum speed guarantee, so if your home can't meet their minimum download speeds (600Mbps), you can claim a full month's money back.
The Sky Broadband Hub router comes as standard. The Sky Broadband Hub is a high-specification router with hardware and software features to extract the most from your Gigafast broadband connection. Here are some of the things we think are worth highlighting.
Support for up to 120 devices wirelessly connected.

Eight Antennae for strong WiFi coverage throughout your home.

Smart channel selection ensures your devices always use the fast WiFi channel and frequency.

Smart scan continuously checks your network connection and automatically reboots if there's a problem.
Sky Gigafast comes with a free VoIP phone line. By default, your phone line doesn't come with any call plans, so any calls you make are pay-as-you-go. However, for a monthly charge, you can add on Evening and Weekend Calls, Anytime Calls or International Calls.
Sky Broadband Boost comes as standard. Sky Broadband Boost is a set of premium features designed to offer you peace of mind. We've listed some of the best features below.
With Sky's WiFi Guarantee, you are promised a minimum of 3Mbps in every room of your home. If you are struggling for coverage with the Sky Broadband Hub, you may receive a Sky WiFi booster to extend the reach and stability of your WiFi.

Your line will receive daily speed and reliability checks, giving you the peace of mind that you're getting the most from your service.

You won't have to pay a penny if you ever need an engineer visit. With Sky Broadband Boost, all engineer visits are free.
Do you need Sky Gigafast Broadband?
It depends. Sky Gigafast broadband is for busy households with high internet usage. It comes at a higher monthly cost than Sky Broadband or Sky Superfast Broadband, so you will want to ensure you get the most out of your Gigafast broadband. Do any of the points below ring true for your home? If so, Sky Gigafast could be an excellent fit for you.
You have multiple connected devices at any given time. Our lives and our homes are becoming more connected than ever. We have smartphones, smart speakers, smart TVs, laptops and many more devices that require a constant internet connection. The Sky Broadband Hub, delivered with Sky Gigafast, can support up to 64 connected devices to keep even the most challenging homes connected.
You stream a lot or do a lot of online gaming. There's nothing worse than watching your favourite Netflix tv series, and suddenly your connection drops, you start to buffer, or you get a sudden drop in quality. The minimum advised speed for Ultra HD streaming is 15 - 25Mbps depending on your chosen streaming service. While Sky Superfast can support these speeds, you must consider that you'll most likely have multiple connected devices at any given time, reducing the bandwidth available for high-quality streaming. Sky Gigafast broadband boasts download speeds of up to 900Mbps and upload speeds of up to 90Mbps, more than enough for keeping your home connected while you continue to binge your favourite shows.
You need a reliable connection with near-zero dropouts. Since COVID, many people have increased their time working from home. This elevates the importance of an ultra-reliable internet connection. Sky Gigafast can offer you that ultra-reliable connection to keep your Zoom calls on track and glitch-free.
If you think 900Mbps download speed is too much for you, Sky has a variety of different deals on offer. Sky's standard broadband package, Sky Essential, is excellent for low internet usage households. Sky Superfast is a perfect choice for homes that need more from the internet but don't have Gigafast or Ultrafast products available. Browse the latest Sky Broadband deals.
Here are our closing thoughts on Sky Gigafast Broadband.
We're excited to see Sky entering the ultrafast market, bringing their premium broadband service and market-leading TV bundles. We welcome competition in this space that Virgin Media's Gig1 product has previously dominated.
Sky Gigafast is competitively priced and has plenty of features to offer you a premium service with the peace of mind that any problems can be resolved quickly. So if you are a busy household and lucky enough to have access to FTTP, we strongly recommend considering Sky Gigafast.