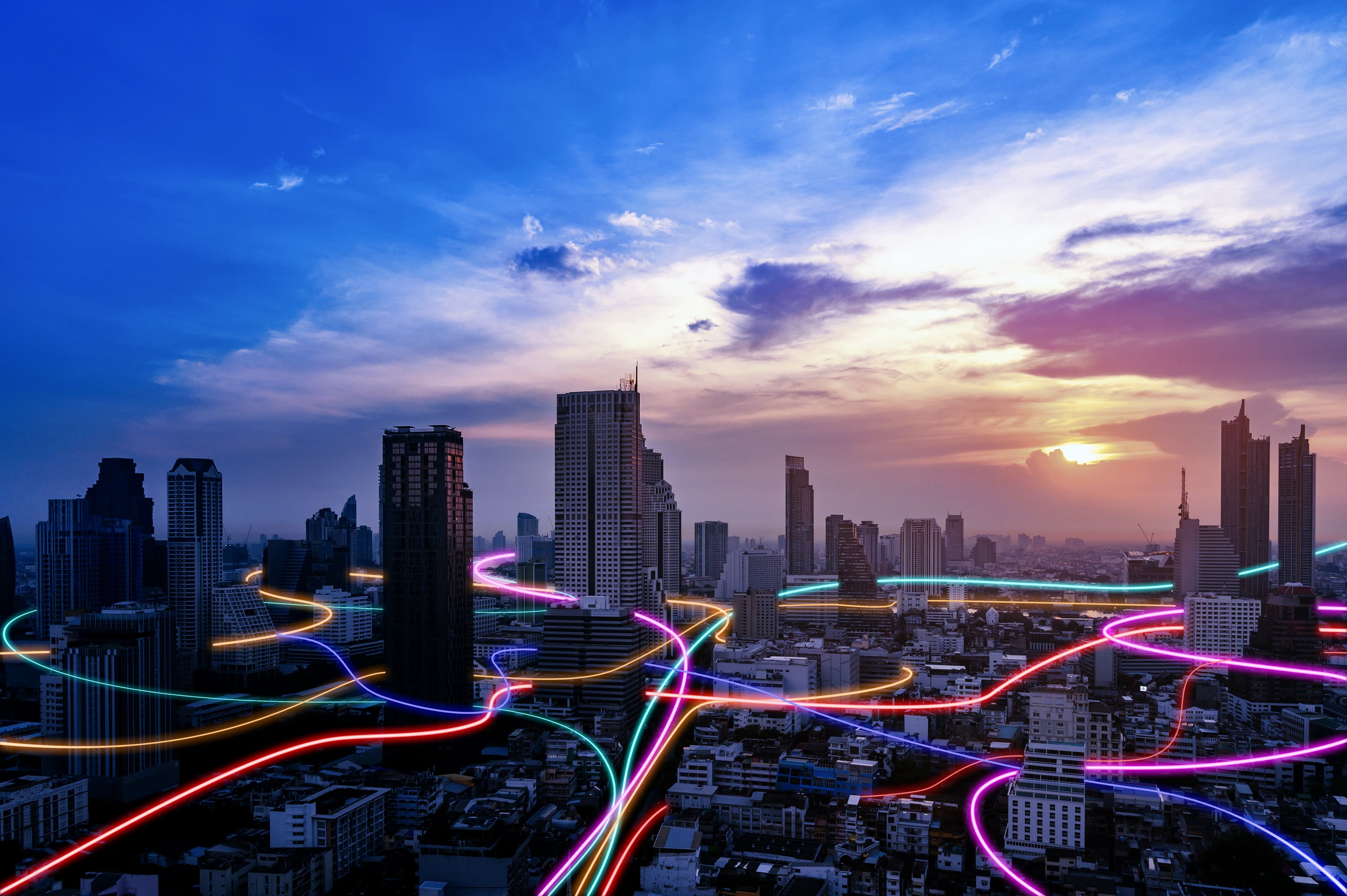 A Guide to CityFibre Broadband
CityFibre is a digital company that designs, builds, owns, and operates a fibre optic network in over 60 towns and cities across the UK. They are one of the main competitors to Openreach, the infrastructure arm of BT, in the race to roll out full-fibre broadband across the country.
It's important to note that CityFibre doesn't provide its services directly to customers. Instead, they work behind the scenes, partnering with various Internet Service Providers (ISPs) such as TalkTalk, Vodafone, and Zen Internet.
These ISPs utilise CityFibre's high-speed network to deliver superior full-fibre broadband services to their customers. While CityFibre focuses on building and maintaining the network infrastructure, the ISPs handle customer service and connectivity for their consumers.
Where is CityFibre available?
CityFibre's network is already accessible in numerous towns and cities throughout the UK. They plan to reach up to 8 million properties across 100 towns and cities by 2025.
To check if CityFibre is available at your home, visit their website and use their postcode checker tool. Just enter your postcode, and you'll be able to see if their services are accessible at your home!
If CityFibre isn't available in your area just yet, it doesn't mean it won't be. You can register on their website; by doing so, you'll receive updates and information from CityFibre relating to their ongoing network expansion.
What speeds can CityFibre deliver?
Thanks to its full-fibre network, it can provide internet speeds - anywhere from 100 Mbps to 5 Gbps. This is a lot quicker than what most people in the UK have.
You might be asking why you'd need such high-speed internet. In today's hyper-connected world, our homes are filled with devices that constantly demand internet access. From CCTV cameras that need to stay connected for security to streaming 4K TV shows or playing online games, our internet usage is higher than ever. CityFibre's Full Fibre technology provides not only the high speeds necessary for these activities but also the reliability that your home needs to keep everything running smoothly.
How Do I Get CityFibre Broadband?
CityFibre partners with over 30 broadband providers, including Vodafone, TalkTalk, Giganet, and others. These partnerships allow these providers to offer a variety of broadband deals using CityFibre's network. This means you'll have many options to choose from for your broadband service.
Also, CityFibre's Full Fibre network offers incredibly fast speeds ranging from 100Mbps to 1Gbps. But which speed is the best fit for your needs?
If you're a large household with multiple users and devices, we recommend speeds of up to 1Gbps; this plan allows various people to stream, browse, and play games online without experiencing any lag or buffering.
For those who need the fastest speeds for heavy internet usage, the Gigafast Plus Broadband plan offers speeds of up to a max of 1Gbps, available in residential areas.  
Your plan will depend on your internet usage and the number of people sharing your connection. With CityFibre's variety of packages, you can find the best option to fit your needs and budget.
Is Installing CityFibre Broadband More Difficult Than Openreach?
When it comes to the installation process, you might be wondering if setting up CityFibre broadband is more complicated than Openreach. The good news is that it's not.
The ISP typically handles the installation process, and it's usually straightforward.
An engineer will visit your home at a scheduled time to install the necessary equipment. This usually involves connecting your home to the fibre network, setting up the router, and ensuring your internet connection works correctly.
Once the installation route is determined, the team will connect the Full Fibre cable from the street to your property using two new boxes—one outside and one inside.
After your property is successfully connected, the installation team will conduct quality tests to confirm your connection to the CityFibre network. 
CityFibre Broadband vs Other Broadband Providers
So, you're considering CityFibre Broadband? Good choice! But how does it stack up against Openreach Full Fibre Broadband? Let's examine. 
Coverage: Openreach wins this category since it has comprehensive coverage, reaching around 85% of UK homes and businesses compared to CityFibre's 30%. Both services are scalable, offering speeds up to 1 Gbps, which is ideal for customers with demanding data needs.
Speeds: Both offer scalable services that can provide speeds up to 1 Gbps, so this category is considered a tie. 
Price: In terms of pricing, CityFibre offers a cheaper alternative to Openreach Full Fibre Broadband. CityFibre's entry-level price starts at £28, while Openreach Full Fibre Broadband starts at £34.99. 
Overall, if you're looking for broader coverage, Openreach may be your best option. But if price is your priority, then CityFibre is your best choice.
Their full-fibre networks offer a variety of benefits over traditional copper-based networks, including:
Speed: Full-fibre networks can deliver gigabit speeds of around 1,000 Mbps, significantly faster than traditional broadband services. This allows users to download, stream, and upload data almost instantly.
Reliability: Full-fibre networks are more reliable than traditional networks, reducing the likelihood of service disruptions and downtime.
Future-proof: Full-fibre networks are designed to support the growing demand for data and the increasing number of devices that require internet connectivity. This makes them a future-proof solution for homes and businesses.
Is CityFibre Broadband Right for You?
CityFibre is a welcomed introduction to the Full Fibre market. Openreach's network covers around 30% of the UK, meaning millions of homes cannot access Full Fibre broadband. CityFibre helps close this gap but also introduces more choices for the consumer. With reliable connectivity and great value for money. CityFibre broadband is worth considering.
Moreover, with multiple broadband packages, finding the one that suits your needs should be a breeze. Plus, with excellent customer service and competitive pricing, you can go right with CityFibre.